Aged Care and Residential facilities
Prevention of malnutrition is our goal
Malnutrition is a major problem for frail older people. It is both a cause of ill health and a consequence of ill health. It is difficult to treat and affects all aspects of a person's life. Malnutrition substantially increases healthcare costs and negatively affects staff morale. In contrast, well nourished residents are able to care for themselves better, family and friends feel reassured that their loved ones are well catered for and staff enjoy working in this environment. Because we have been working with residential care since 2004, our company has developed specialist skills and experience to help you and your residents with their nutrition.
Clinical nutrition services
Food service advice
Staff training and Inservice education
Developing nutrition policies and practices
Consulting Dietitians operate throughout many parts of New Zealand and it is easy to access our team of consultant dietitians through our Auckland office. Just give us a call for a prompt quote, phone advice or if you want to ask about referring someone and how to go about it. We operate all year round so there is no fear of waiting for people to get back from holidays. We welcome any questions you may have, such as good screening tools for malnutrition in older adults or what to do if your resident has lost interest in eating.
Here are some of the areas where we can assist you:
Specialist Clinical Nutrition Services
Caring for the nutrition needs of your residents Weight loss can be a worrying problem for nursing and care giver staff. There are always many causes. Family and friends get very concerned when they see someone losing weight and losing interest in eating. After all, food is one of the basics of life. Other issues that impact on resident's food intake are problems with chewing and swallowing, constipation, emotional upsets such as a recent move from home to a rest home, increasing dementia. Or sometimes residents continue to gain weight month after month and it becomes difficult for caregivers to perform daily cares. Some residents have increasing problems with food intolerances and aversions.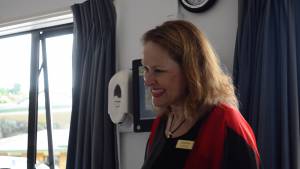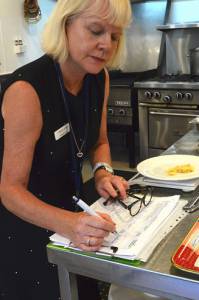 Food Service Advice
Focussing on the food service Food is often the one topic of conversation for people in residential care. Meals and snacks are keenly anticipated and nearly everyone likes to enjoy a nourishing meal or a home baked snack. Unfortunately some people don't find the food service exactly what they were used to at home. Guaranteeing a quality food service to meet residents' needs is dependent on a huge variety of tasks being successfully completed.
Training Sessions
Increasing nutrition and food skills for your staff Busy staff members want practical training that provides specific advice and information about caring for residents. We find hands on and interactive sessions work well if English is not the first language of staff members. We will tailor our sessions to meet your needs. In all sessions we like to refer to the latest research in the area of nutrition for older people. We will do our best to assist you to meet the Health and Disability Service Sector Statement 2.7.5 relating to "ongoing education for service providers to provide safe and effective services to consumers". Need more information?